IDEAS SOUGHT FOR WATERLOO DOWNTOWN
Please take the downtown Waterloo survey:  https://tinyurl.com/yawyqaj5
Jan. 23, Waterloo SWAT Analysis and Idea Session- Went Great!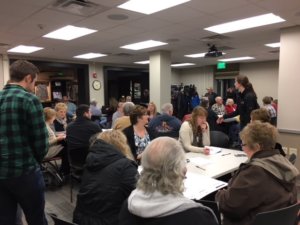 Check out these news stories about our first public meeting:
http://www.wfft.com/content/news/Community-offers-ideas-for-towns-future-470810213.html
You Can Participate:
January 24 – Feb. 11, take a survey (use link above) or get one at Town Hall
Feb. 20, 5:30 pm Waterloo Library, Public Meeting/survey results and Waterloo elementary students present their ideas
April 17, 5:30 pm Waterloo Library, Ball State Student Presentation
Share Your Thoughts
What small businesses do you want in Waterloo?
How would you improve downtown?
For the Waterloo's downtown future to be successful, we need to hear from you!
click here for: PUBLIC FORUM flyer
Sponsored by Waterloo Redevelopment Commission & Ball State University Community Based Projects Program.