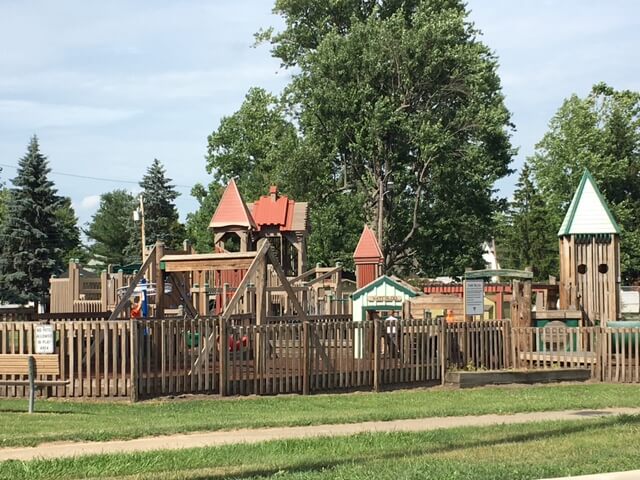 The Francis Thomson Memorial Park, located just west of the downtown, is Waterloo's oldest park and our favorite outdoor gathering place. It contains a large playground area, modern restrooms and a bandstand.  The park also has an open-air pavilion for use in warmer weather and an historic train depot for year-round use.  Both are available to rent for reunions and other gatherings.
The town has two other parks. Eagle Park, as it's known by locals, was created on a vacant lot on Wayne Street by Boy Scouts and is a relaxing place to rest in the heart of the Town. Pankop Park is a neighborhood pocket park that includes a pavilion, playground equipment and a large open greenspace.
A bicycle-pedestrian trail connects Waterloo with the city of Auburn along County Road 427.  DeKalb Middle and Senior High Schools are less than two miles south at the edge of town along the trail.
The Waterloo Park Board is currently working on designs and cost estimates for a new Veteran's Park to be located by our water plant at the corner of Center and Walnut Streets-near Wayne Street. Ideas include digging a pond, building a small sledding hill, installing a fenced dog play area, and adding a memorial with benches, landscaping and trail circling the entire park. This park will connect to the Auburn-Waterloo bikeway too.  Fundraising for the park begins soon!
Please help the Park Board complete our design of the new park and also our five-year plan for all parks.  We value your perspective!
Your answers will be kept confidential and only reported together with all other surveys received. Survey results will be presented in a public meeting on Wednesday, November 14, 2018 at 5:30 pm., located at the Waterloo Depot Community Room, 485 W Van Vleek St., Waterloo, IN 46793. If you have any questions or comments about the survey, please contact Kristine Christlieb at the Northeastern Indiana Regional Coordinating Council (NIRCC) by phone at: (260-449-4704) or email (Kristine.Christlieb@co.allen.in.us).