Waterloo Park Board Thanks Pankop Park Supporters
Waterloo, IN –Waterloo has completed Pankop Park, a relaxing place for residents on the north side of town. The Waterloo Park Board would like to express appreciation for many different contributors that made the park possible.
The land was donated by Virgil & Ened Pankop and dedicated as a park in memory of Ened's parents, Ray and Irene Musser. Last summer, Nucor Building Systems provided the Town a pavilion for the cost of materials and the Community Foundation of DeKalb County provided a grant for fencing.  Volunteers from Nucor helped build playground equipment and painted tables in August as part of United Way's Day of Caring. Recently, members of the Waterloo Park Board finished construction on playground equipment.
Members of the Waterloo Park Board would like to thank the following other supporters for donating their time and/or materials to the project:  Nucor Building Systems, Henderson Construction, Chris Albright, Speedway Construction, Scott Eberly, Barbie Piña, Victor Piña, John Thomson and coworkers from R.P. Wakefield. In addition, the Town would like to acknowledge the work of the Park Board members:  Ed McDowd, John Thomson, Dwight Zerkle, Ken Rhodes, Jan Hoffmeister, Jay Baumgartner and also employees from the Parks Department, David Wolfe, Andy Cintron and Tena Woenker.
Thank you all.
Sincerely,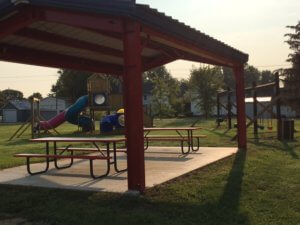 The Waterloo Park Board