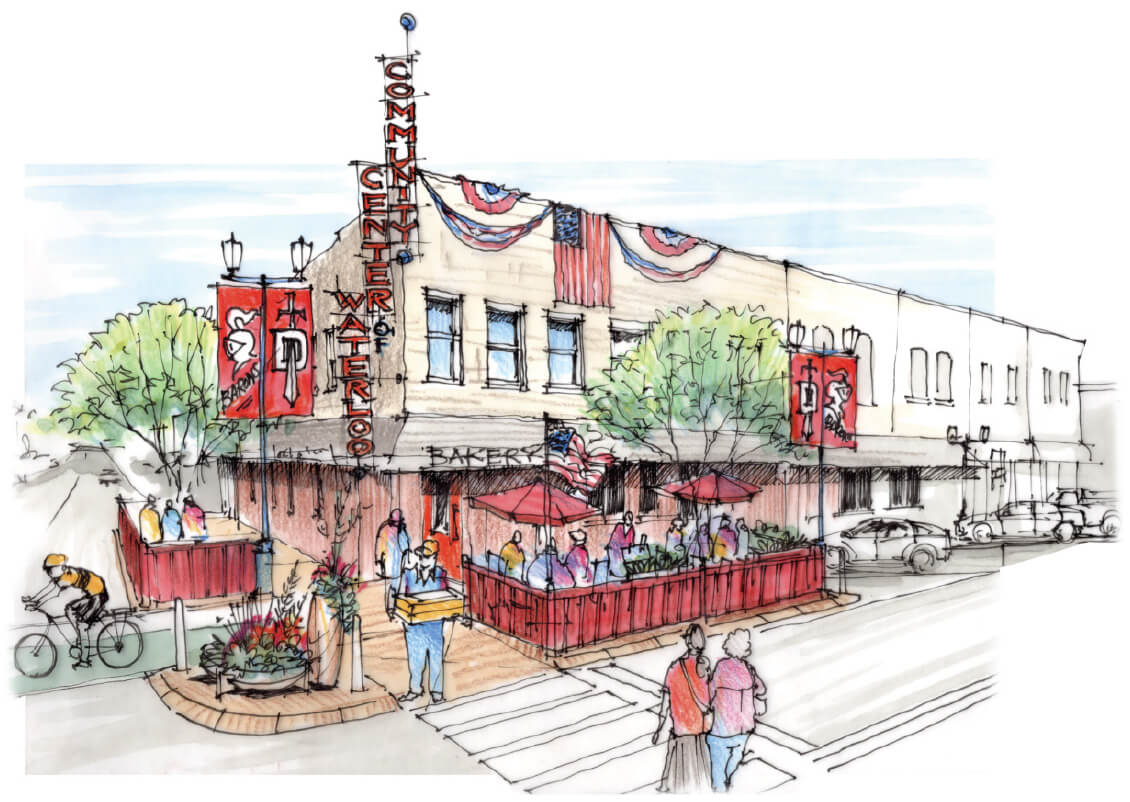 Graduate Students Present Suggestions for Waterloo Downtown
Waterloo, IN – Residents heard the results of a semester-long project with Ball State Urban Planning students evaluating Waterloo's downtown on April 17. Community leaders are now ready with a new perspective and fresh ideas to implement for the future of Waterloo.
"We have been working for several years to re-build our community spirit, removing blight, investing in parks, public spaces and infrastructure," said Tena Woenker, Town Manager.  "Then our Redevelopment Commission took possession of a critical building in the heart of downtown. Buying that building gives us some control of the destiny of this critical block downtown so we can make it active again. We have had quite a bit of interest in redeveloping it and I think the students gave us some great ideas."
Download the Downtown Revitalization Plan here.
The group of graduate-level students visited Waterloo's downtown area in January to begin the process of generating realistic ideas. They walked around the town and made observations. Then they gathered input, through research, public meetings, surveys, and comparisons with other communities.
In February, the students held a public meeting to a large audience sharing the survey results and some surprising analysis. For example, the participants learned that more than $12 million is spent outside the community because of the lack of businesses in town. This money spent on restaurants, healthcare, automotive businesses and retail could be spent in Waterloo if the right companies were attracted to the area.
The final presentation revealed not only what the residents want in rejuvenating their town but also what kinds of business they think region will support. The survey received nearly 400 responses and many of those are from people who live outside of the Waterloo boundary but either pass through regularly or live in the outlying area.
"We know from the surveys that many more people are interested in Waterloo's success than we thought but we don't want to lose site of the needs of our residents as we recruit new businesses." Says Woenker. "If we are going to make a big investment or entertain an offer by developers, we need to be sure the business model can succeed in Waterloo. This is important for both us and for the investors—our plans need to work."
"We're excited about this project, and hope to get great ideas for how to re-develop the community, especially downtown." says Sallie Pease, Redevelopment Commission president. "It's my hope that this project will help Waterloo regain its vibrancy while maintaining its small town charm."
-30-
Burayidi has studied successful downtowns across the US and identified the ingredients that make downtowns successful. He wrote a book that was published by Routledge in 2013 on the subject, "Resilient Downtowns: A New Approach to Revitalizing Small and Midsized Cities." The American Planning Association will publish a Planning Advisory Service (PAS) report that he wrote about downtown revitalization in small and midsized cities this month. The report will be distributed to the organization's 38,000 practitioner members across the world. He also has a consulting firm, Burayidi Consulting, LLC that helps cities with their redevelopment needs, including comprehensive plans, downtown redevelopment, and other planning services.
The Community Based Projects (CBP) program is an outreach arm of the college of Architecture and Planning and has been assisting communities in Indiana with their development needs for over three decades.