Skeeter the Clown Promotes Circus
The Town of Waterloo welcomes Skeeter the Clown to build excitement for our upcoming circus event.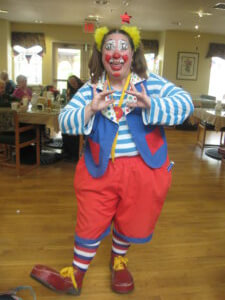 Skeeter's assembly program is entertaining, but educational as well. She "teaches" the students in a fun way. During the course of her 20 minute assembly program, Skeeter incorporates the following subjects: History, Math, Spanish, American Sign Language, Listening to and following directions and Cooperation. She will ask for a few volunteers to help her on stage, and she will also do a little slight-of-hand magic.
Skeeter the Advance Clown is scheduled to be in Waterloo, on Thursday, May 31 from 1:00 to 3:30 p.m. Anyone interested in watching the free program can come to one of the following locations.
The schedule Thursday is:
1:00   Waterloo Grant Township Public Library Community Room
1:30   First Christian Church, 910 N Indiana, in Auburn. Come in the side door
2:00   Francis Thomson Memorial Park pavilion – media interviews and performance
2:45   Betz Nursing Home, 116 Betz Rd. Auburn
Thanks to the sponsorship of the Waterloo Main Street, Culpepper & Merriweather Circus, America's Favorite Big Top Circus is coming to Waterloo, IN on Tuesday, June 12th, 2018 to the New Hope Church Grounds located at 900 S. Wayne St. with scheduled performances at 5:00 & 7:30 p.m. Now in its 33rd edition, C&M Circus has become internationally known for quality family entertainment.
Attached is a photo of Skeeter. If you have any questions, please contact Tena Woenker, Waterloo Town Manager, 260-837-7428.