Town of Waterloo launches Crowdfunding Campaign for Veterans Memorial Park project
Thanks to everyone who made a contribution!
On April 16, 2019, we passed the goal of $48,750, and raised $62,686 from 110 contributions, plus we qualified to receive $48,750 from IHCDA's CreatINg Places program!
fundraising ended May 1, 2019.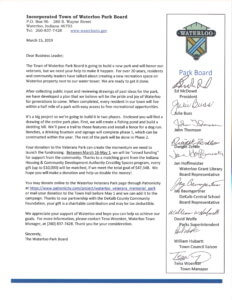 Click here for Donation Letter
___________________________________________________________
Thank you to everyone who has donated!  Special recognition for these donors:
Commander/Colonel/Admiral, $10,000:
Auburn American Legion Post 97
Anonymous
Lieutenant Colonel, $5,000:
Charleston Metals
Horizon Bank
Olive B. Cole Foundation
Peoples Charitable Foundation
RP Wakefield
Major, $1,000+:
Casey's General Store
Covington Box & Containers
Employees of Eaton Corporation, Auburn
Stephen Liebbe
NIPSCO
Nucor Building Systems
Dr. Larry G Payne
Captain, $500:
Auburn Lodge No. 0566 Moose
Community Foundation DeKalb County
Hartman Auto Body, Inc
New Hope Christian Center
William Hubartt
Dwight & Lina Zerkle
Lieutenant, $250:
Tena Woenker
Sergeant, $100+:
David Bolton
Beonca Coburn, Miss Teen USA
Mr. & Mrs. Higgins
Timothy Hine
Brent McMillan
Phyllis Gratz Poff
Everett, Vada, Mike & Elly Tullis
Judy Sorg
Ken and Janet Surber
John Thomson
Gregory and Catherine Vick
_____________________________________________________________
You can help make our $48,750 goal to receive a matching grant through IHCDA's CreatINg Places program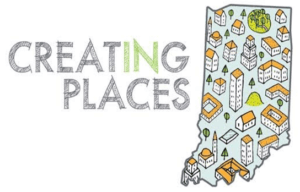 Pop-Up Party – Monday, April 1, 2019 from 5:00-6:30 p.m at 385 W Walnut St.
Press Release – March 26, 2019
Waterloo, IN- The Waterloo Park Board has announced a pop-up party to celebrate fundraising efforts for building a new Veterans Memorial Park. Join us on Monday, April 1, 2019 from 5:00-6:30 p.m at 385 W Walnut Street. This is the site of the new park.
Waterloo fire fighters will be grilling tasty pork burgers and hotdogs, and serving them for free, along with chips and a drink. The Army National Guard will be on site with a bungee run for the kids and to provide information about the Guard.
Park board members will be on hand to talk about the future park. After collecting public input and reviewing drawings of past ideas for the park, they have developed a plan that they believe will be the pride and joy of Waterloo for generations to come. When completed, every resident in the town will live within a half mile of a park with easy access to free recreational opportunities.
It's a big project so they're going to build it in two phases.  Phase 1 started with the launch of a crowd-funding website on Friday, March 15. The campaign is off to a good start.  If the campaign reaches its $48,750 goal by May 1st, the "Waterloo Veterans Memorial Park" project will receive a matching grant of $48,750 from IHCDA's CreatINg Places program.
April 1 is no JOKE when it comes to free food and fun.  Several large donations have been announced and the event on Monday will celebrate this generosity and build excitement for the park.
-30-
Press Release, March 15, 2019; WATERLOO – Residents in the Town of Waterloo may soon have a new space for walking, playing and relaxing if a recently launched crowdfunding campaign is successful. The town is using the CreatINg Places' program offered by the Indiana Housing and Community Development Authority (IHCDA). The money raised will be used to activate a vacant lot by constructing the first phase of Waterloo Veterans Memorial Park.
"We are pleased at the opportunity to support the Town of Waterloo on this new crowdfunding campaign," said Carmen Lethig, Placemaking Manager for IHCDA. "Once completed, Waterloo Veterans Memorial Park will offer a number of amenities that will complement the other parks and gathering spaces in their community. It also provides a new way to pay tribute to the service of our military veterans."
If the campaign reaches its $48,750 goal by May 1st, the "Waterloo Veterans Memorial Park" project will receive a matching grant of $48,750 from IHCDA's CreatINg Places program.
Click here for project details and to donate.
The funding raised during this campaign will provide a stocked fishing pond, trail for bikes and hikes, sledding hill, free fenced dog play area, drinking fountain, benches and a space for the community to gather.
"This will be a really nice park for Waterloo," said Tena Woenker, Town Manager of Waterloo. "We're hopeful that the community and businesses will support our goals to build it this summer. We are very excited for the matching grant with IHCDA and the partnership with Patronicity, this is a great opportunity."
Since the CreatINg Places program began in 2016, projects have raised in excess of $1,980,000 in public funds and an additional $1,693,000 in matching IHCDA funds.
The CreatINg Places program is available to projects located in Indiana communities. Non-profit entities (with 501c3 or 501c4 status) and Local Units of Government are eligible to apply.
Eligible projects must have a minimum total development cost of $10,000, where the recipient will receive $5,000 in IHCDA matching funds should they successfully raise $5,000 through Patronicity. IHCDA will provide matching grant funds up to $50,000 per project.
###
IHCDA, chaired by Lt. Governor Suzanne Crouch, provides housing opportunities, promotes self-sufficiency and strengthens communities in order to build an Indiana with a sustainable quality of life for all Hoosiers in the community of their choice. For more information, visit www.ihcda.in.gov or www.in.gov/myihcda
Media Contacts
Brad Meadows
Marketing and Communications Director
Indiana Housing & Community Development Authority
brmeadows@ihcda.in.gov
(317) 234-1745
Tena Woenker
Town Manager
Town of Waterloo
townmanager@waterlooin.gov
(260) 837-7428
How You Can Support!
Every dollar that you contribute will be matched by the Indiana Housing and Community Development Authority (IHCDA) CreatINg Places program, but only if we reach our entire goal FIRST. 
You can easily support by clicking the Orange SUPPORT button at:  https://www.patronicity.com/project/waterloo_veterans_memorial_park#!/
Or if you prefer to make a check donation, Mail To:
Community Foundation DeKalb County
PO Box 111, 700 Main Street
Auburn, IN  46706
Be sure to put "Waterloo Veterans Park" in the memo line and send before May 1, 2019.